The unflinchingly nostalgic World of Warcraft Classic and the neo-futuristic ideal of real-time ray tracing in absolutely, positively everything don't immediately strike me as a natural match. And yet here we are, with a surprisingly pretty version of the MMO using Nvidia's RTX Remix files ripped right out of Portal RTX.
The video recently went live on r/RTXRemix and the visuals are rather astounding considering this is a complete hack with a bunch of code not actually designed to be used with Blizzard's MMO remake.
Yes, the gift of Portal RTX just keeps on giving. That in itself is a beautifully realised version of the classic Valve puzzler, given a visual overhaul using the power of Nvidia's RTX Remix software. Despite RTX Remix as a feature not yet being available to the public, the release of Portal RTX has put a bunch of the necessary files into the public domain, and enterprising folk have been dropping them into a host of different old games ever since.
The code, as you can see from the small print across the bottom of the video highlighting the funky new WoW Classic lighting mod, was configured for Portal RTX, and there are accurate warnings about compatibility issues for using the same files with other games.
Other commenters have noted their own issues trying to drop the RTX Remix files into WoW Classic, so it's not without its hurdles. And, among the otherwise pretty impressive results displayed above, it's quite obvious the water effects in WoW don't really lend themselves to the Portal RTX files. Basically, it isn't quite as simple as copying one folder to another and hitting play.
We've noted previous examples where it's worked incredibly well, such as Half-Life 2 (obvs.) and Max Payne. But there are equally times where this process hasn't worked; just look at the already-janky-as-all-hell Operation Flashpoint. Watching it in new RTX-o-vision and it looks like the Cold War Crisis was going down in a dust storm. With strangely reflective ground.
Image 1 of 3
It's worth noting that this isn't the extent of RTX Remix. Nvidia's application is designed to make the modding workflow far simpler for older games where perhaps the code isn't so accessible. The complex operation captures all the textures, geometry, lighting, and camera data and enables it to be played with in a host of widely used applications, such as Blender and Unreal Engine.
It's not just about lighting either, although adding real-time ray tracing to older titles can immediately upgrade their visual fidelity. The AI Super Resolution and AI Physically Based Materials features enable modders to quickly upscale old assets and then add physical properties to them. The most obvious example is a brick wall, which would be a flat texture in an older title, that can be upscaled and given a roughness map that can actually interact with lighting realistically.
With an RTX Remix mod you also get the hassle-free addition of DLSS 3 to any game, alongside Reflex to improve overall system responsiveness. This is the sort of stuff not yet accessible to modders, as is the ability to save a mod and share it with others online.
But all these simple examples ably demonstrate why we're all so excited to see RTX Remix given a full launch, if only just to see what the AI makes of Oblivion's potato-faces and give us another excuse to boot up Skyrim.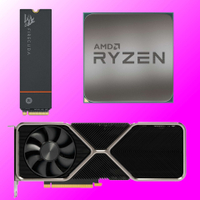 Best CPU for gaming: Top chips from Intel and AMD
Best gaming motherboard: The right boards
Best graphics card: Your perfect pixel-pusher awaits Best SSD for gaming: Get into the game first