At GDC, CD Projekt Red is showing off the future of ray tracing in Cyberpunk 2077, one bouncing neon light at a time. It's set to arrive with a new graphics preset, Ray Tracing: Overdrive Mode, which will come to the PC version of Cyberpunk 2077 on April 11. This gives you enough time to track down an RTX 4080 and its powerful frame-generating magic. You're going to need it.
In what Nvidia calls a "technology preview," Overdrive Mode will feature path tracing, aka full ray tracing, announced last year, that'll "accurately simulates light throughout an entire scene.". Light sources will now cast "physically correct soft shadows," and colored lighting will bounce multiple times in a scene. In a game like Cyberpunk that's drenched with neon lights, it'll create more realistic direct and indirect lighting.
You can see in this video exactly what Nvidia is talking about, with various light sources bouncing off multiple surfaces like water and metal in ways that are closer to real life. Nvidia says improved physically based lighting should remove the need for other occlusion techniques, which can be taxing on a GPU.
Path tracing has been around for a while and is often used by VFX artists for TV and movies. Since it's pretty GPU intensive, putting it into a game was a heavy lift. Nvidia claims that RTX 40-series GPUs are up to the challenge, but you'll likely want a little help from upscaling and frame-gen technologies like DLSS 3 to make it bearable.
With DLSS 3, you should get a nice performance boost when all the bells and whistles are turned on. The tech allows games to render just a fraction of the pixels and then uses AI to make up the rest, which boosts frame rates while still looking good. We will know just how well Cyberpunk 2077 will run in Overdrive Mode once we test it out next month and run the numbers.
In the meantime, while you wait for April 11, Nvidia has released the game-ready driver for the tech preview of Cyberpunk 2077's Ray Tracing: Overdrive Mode, which you can download right now, assuming you have the proper hardware. Starting today, developers can also start messing around with the Nvidia RTX Path Tracing SDK kit.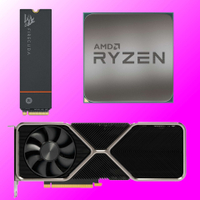 Best CPU for gaming: Top chips from Intel and AMD
Best gaming motherboard: The right boards
Best graphics card: Your perfect pixel-pusher awaits Best SSD for gaming: Get into the game first