After what seems like an interminable wait, AMD's Navi 32 GPU is finally starting to break cover. This is the second-tier RDNA 3 graphics processor, and only the second ever to use AMD's new GPU chiplet packaging techniques. The red team seems to be focused on the mobile market at the moment, and the fact that it's the laptop versions of the RX 7800-series silicon that has been leaked is telling.
That does, however, mean we're still likely to be waiting a while for the desktop card to arrive, either in RX 7700 or RX 7800 trim.
Twitter leaker, All_The_Watts has listed the expected specifications for five different Navi 32-based mobile graphics cards. While there is no way to 100% verify the truth of these rumoured specs, they look pretty likely and consistent with the previous generation of AMD mobile GPUs.
They have also posted a shot of a 3DMark Time Spy benchmark supposedly from an RX 7800M XT run, and it's way beyond what the best of the last-gen laptop Radeon chips could muster. I mean, hot damn it's offering RTX 4070 desktop performance.
The average from an RX 6850M XT is around 11,000 points, and the RTX 4070 is around the same 17,800 level. This does speak well to the performance of the Navi 32 silicon, which has been a concern given how late to the party AMD has been with its second-tier RDNA 3 GPU.
The RX 7800M XT is the top mobile chip of the next-gen Radeons, and the fact it can apparently deliver that level of performance with a total board power of some 189W is impressive.
पीक पावर 189W बोर्ड ड्राइवर के पास क्लॉक रिपोर्ट इश्यू है।June 5, 2023
See more
That should translate to good desktop performance if, as expected, the RX 7800 XT comes with the same essential GPU makeup, but with a higher clock speed and moar power.
That's a heavy 'should', however, and there's no guarantee that chucking more juice through the Navi 32 GPU will actually yield a whole heap more performance in a desktop GPU. Certainly our current experience of RDNA 3 chips—either in monolithic or chiplet trim—haven't shown a particular aptitude for nailing super high clock speeds. Not the 3GHz+ numbers we were given to expect from the Radeon RX 7000-series chips anyway.
We've so far only had the RX 7900 XTX and RX 7900 XT cards at the high-end, with their somewhat hobbled Navi 31 chip, and the low-spec RX 7600 with its Navi 33 GPU. The middle-order of Radeon cards has been conspicuous by its absence, with rumours suggesting performance isn't where AMD wanted.
If the red team can't significantly boost the clock speed with more power on the desktop then we would just be looking at an RX 7800 XT that performs like… well, an RX 6800 XT. And that's not a great look in terms of generational performance uplifts.
Still, sticking with the mobile side of things, it bodes well for the gaming chops of AMD-powered notebooks. For reference, that Time Spy score is only just shy of the average GPU score of an RTX 4080 laptop chip (which is closer to an RTX 4070 Ti desktop part) which looks like a great result to me.
The full rumoured line-up of mobile Radeon chips are:
RX 7800M XT | 60 CU | 16GB | 165W
RX 7800M | 54 CU | 16GB | 150W
RX 7700M | 48 CU | 12GB | 140W
RX 7900S | 60 CU | 16GB | 135W
RX 7800S | 48 CU | 12GB | 120W
That RX 7900S looks a bit of an oddity in there, given that it is the same essential spec as the RX 7800M XT, but with a lower power profile. Though it's the same deal with the RX 7700M and RX 7800S, but the less said about AMD's current naming conventions the better. Its laptop chip nomenclature is almost impenetrable (you need a goddam coding wheel, ffs) and the graphics card names really don't tell you much of the story either.
But, my mother told me that if you don't have something nice to say, don't say anything. Though if I'd rigorously stuck to that advice throughout my career I wouldn't have a lot of published work by now.
Anyways, depending on how these Radeon machines are priced, the RX 7800M XT could be the GPU you want at the heart of your next gaming laptop. It's offering serious performance with a level of efficiency I'm definitely here for. It will be interesting to see how close the lower-power RX 7900S is in terms of performance for a 135W GPU, but for high fps gaming, I suspect the RX 7800M XT will be the one.
And given the fact that benchmark scores are seemingly out there right now, we might not be too far from finding out exactly how good they are in the real world.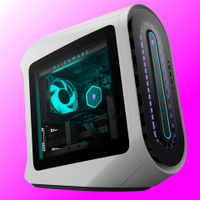 Best gaming PC:
The top pre-built machines from the pros
Best gaming laptop:
Perfect notebooks for mobile gaming