More top Genshin Impact builds
Genshin Impact Heizou build: Brawling detective
Genshin Impact Klee build: Little red bomber
Genshin Impact Kazuha build: Anemo ronin
Genshin Impact Yelan build: Hydro spy
Genshin Impact Kuki build: Loyal lieutenant
The best Collei builds in Genshin Impact are all about utilising her burst and skill. Since we're finally able to head to Sumeru and get our hands on the first Dendro characters and their unique reactions, there are a fair few possibilities when it comes to building Collei.
We also now have access to the new dedicated Dendro artifact set; Deepwood Memories. This buffs Dendro damage and reduces Dendro resistance in opponents, making it powerful set for both Tighnari and Collei, especially if you want to use Collei in more of a support role.
In this Genshin Impact Collei build guide, I'll run through some of the best setups that let you make the most of the trainee forest ranger. I'll also explain how to get her in-game, what her abilities are, and what new ascension materials you'll need to level this Dendro character.
Builds
The best Genshin Impact Collei builds
Collei is a pretty simple character to use, with a boomerang-based skill that hits twice, and an AoE burst that both deal Dendro damage. Her passive skills rely on her causing Dendro reactions to prolong these and apply the Sprout effect, which deals Dendro damage equivalent to 40% of her attack.
Weapon: Polar Star, The Stringless, or Elegy's End
The best weapon choice for maximising Collei's damage is the five-star Polar Star bow. This boosts crit rate as a substat and buffs elemental skill and burst damage by 12%. Whenever a normal attack, charged attack, burst, or skill hit an opponent, you get one stack of Ashen Nightstar for 12 seconds. These stack up to four times, and incrementally increase attack by 10, 20, 30, and then 48%. Since Collei relies heavily on her skill and burst and their interaction, this is a decent choice.
A less rare alternative could be the four-star Stringless bow. This boosts elemental mastery as a substat, making Collei's Dendro reactions more powerful, and it also increases skill and burst damage by 24%, which is pretty straightforward.
However, if you want to run Collei more as a support character, the best bow is five-star Elegy's End. This increases energy recharge and elemental mastery by 60. When a skill or burst hits an opponent, you get a Sigil of Remembrance. When you collect four, these are consumed, granting 100 elemental mastery and an attack bonus of 20% for 20 seconds for the entire party. As you can imagine, this is incredible for strengthening the Dendro reactions Collei can get from her skill and burst.
Artifacts: Emblem of Severed Fate (4) or Deepwood Memories (4)
Emblem of Severed Fate has always been good for characters who need both energy recharge and a buff to burst damage. Two-pieces boosts energy recharge by 20%, while four-pieces increases elemental damage by 25% of whatever your energy recharge is. You can get a max damage bonus of 75% this way.
Another option that's great for Collei is the new Deepwood Memories artifact set from Sumeru. Two-pieces buff Dendro damage by 15%, while four-pieces reduce a target's Dendro resistance by 30% when you hit them with a burst or a skill. This effect can even be triggered when the character isn't on the field, which makes it a great support set for Collei, especially if you're going with Elegy's End as your weapon and focusing on elemental mastery.
For stats, you'll want an artifact with a Dendro damage bonus substat if possible. If you're going with Polar Star and Emblem, you'll want energy recharge for the damage bonus and some crit rate and crit damage to take advantage of the weapon's stat boost. However, if you're going with more of a support build in the form of Deepwood Memories and Elegy's End, your focus should be building elemental mastery for powerful reactions instead of crits. Both of these are strong builds, it just depends how you want to utilise Collei.
How to unlock
How to get Collei in Genshin Impact
Collei is currently a boosted four-star on the Tighnari and Zhongli banners, so if you want either of those characters anyway, you'll likely end up getting her while wishing for them. If you don't, though, Collei is free to all Genshin players who complete the tutorial for the Graven Innocence event, so be sure to keep your eyes peeled for that.
Abilities
Collei's abilities
Here are Collei's abilities, constellations, and passives:
Swipe to scroll horizontally
Normal attack: Supplicant's Bowmanship

| | |
| --- | --- |
| Normal | Perform up to four shots with a bow. |
| Charged | Perform a precise shot with increased damage. Fully charged shots deal Dendro damage. |
| Plunging | Fire off a shower of arrows before plunging to the ground dealing AoE damage. |
Swipe to scroll horizontally
Elemental skill

| | |
| --- | --- |
| Floral Brush | Throw a Floral Ring that deals Anemo damage to opponents along its path. The ring returns after a short time dealing another instance of Dendro damage. |
Swipe to scroll horizontally
Elemental burst

| | |
| --- | --- |
| Trump-Card Kitty | Throws the doll, Cuilein-Anbar, causing an AoE Dendro explosion and creating a Cuilein-Anbar zone that deals AoE Dendro damage. |
Swipe to scroll horizontally
Passives

| | |
| --- | --- |
| Gliding Champion of Sumeru | Reduces gliding stamina consumption for your party by 20 percent. |
| Floral Sidewinder | If a party member triggers Burning, Quicken, Bloom, Aggravate, Spread, Hyperbloom, or Burgeon reactions before the Floral Ring returns, the character is granted the Sprout effect. This deals Dendro damage equivalent to 40 percent of Collei's attack to nearby opponents for three seconds. |
| The Languid Wood | When a character within the Culein-Anbar zone triggers Burning, Quicken, Bloom, Aggravate, Spread, Hyperbloom, or Burgeon, the zone's duration is increased by one second. |
Swipe to scroll horizontally
Constellations

| | |
| --- | --- |
| Deepwood Patrol | When in the party and not on the field, Collei's energy recharge is buffed by 20 percent. |
| Through Hill and Copse | Allows you to increase the duration of Sprout from Floral Sidewinder by three seconds when you trigger Burning, Quicken, Bloom, Aggravate, Spread, Hyperbloom, or Burgeon reactions. |
| Scent of Summer | Increases level of Floral Brush by three. Maximum upgrade level is 15. |
| Gift of the Woods | Using Trump-Card Kitty will increase all characters' elemental mastery by 60 for 12 seconds, excluding Collei. |
| All Embers | Increases the level of Trump-Card Kitty by three. Maximum upgrade level is 15. |
| Forest of Falling Arrows | When the Floral Ring hits opponents it will create a Cullein-Anbar that deals 200 percent of Collei's attack as Dendro damage. Each Floral Brush can only create one. |
Ascension materials
Collei's ascension materials
Character
Since Collei is a Dendro character, she has a new ascension gem material. Nagadus Emerald comes from the Jadeplume Terrorshroom boss in Sumeru, as does the Majestic Hooked Beak that she also needs. There are two world materials as well:
Rukkhashava Mushrooms
Firm Arrowheads
Firm Arrowheads are dropped by ranged Hilichurls of all different world levels, while Rukkhashava Mushrooms are a new region speciality that can only be found in Sumeru. Lots of these grow around the Lokapala Jungle and on the hills to the south of Ardravi Valley. You can see every location on the official Genshin Impact map.
Talent
Here's what you're going to need to ascend Collei's talents:
Teachings of Praxis
Arrowhead materials
Tears of the Calamitous God
Crown of Sorrow
Teachings of Praxis are a new character ascension material that come from the Steeple of Ignorance Domain in Sumeru on Wednesdays, Saturdays, and Sundays. As mentioned, Arrowheads and their rarer variants come from beating ranged Hilichurls of varying world levels.
Tears of the Calamitous God are a possible drop from the Guardian of Eternity weekly boss, but can also be converted from her other drops with Dream Solvent. Lastly, the Crown of Insight comes from upgrading the Frostbearing Tree in Dragonspine with Crimson Agate, the Sacred Sakura in Inazuma with Electro sigils, the Lumenstone Adjuvant gadget in the Chasm, or from certain seasonal events.
You'll also need a whole heap of mora; around 1.6 million for every talent you choose to level.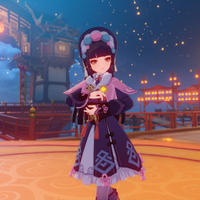 Genshin Impact guide: Beginner tips
Genshin Impact characters: Full tier list
Genshin Impact code: Redeem for free rewards
Genshin Impact banner: Every character