The best cheap gaming chairs give you the comfort and stability you need, without being abhorrently expensive. It's not always easy to tell good cheap gaming chairs apart from their false-economy counterparts. While our best gaming chair guide looks for absolute perfection for a reasonable price, the cheaper end of the market is a bit of minefield.
Now that Black Friday is upon us, the market is only going to be more difficult to navigate. In order to help you avoid the trappings I've used my years of experience sitting my butt on various things to lay out this cheap gaming chair guide. I've set a soft budget of $200.
Snapshot guides
We've not personally tested every product in this cheap gaming chair guide, but our main guides feature products we're rigorously tested ourselves.
Best gaming chair
Best office chair for gaming
Best gaming desk
There are a few things to consider when looking for a cheap gaming chair: adjustable lumbar and neck pillows, a good recline, 3D or 4D armrests, and a suitable weight limit. Though don't expect all of these features for under $200—consider it a bit of a red flag for quality. If it looks too good to be true, it probably is.
Remember, you'll be sitting in your chair for hours on end so even a cheap gaming chair should support your frame. Ergonomics are often trumped by aesthetics when it comes to affordable gaming chairs, but don't let the beauty of chair themed around your favourite character mess up your spine. On that note, here are the best cheap gaming chairs we've seen around today.
Where are the best gaming chair deals?
In the US:
In the UK:
The best cheap gaming chairs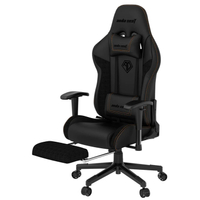 AndaSeat Jungle 2 | Neck pillow | Lumbar support | Footrest | $249.99 $199.99 at AndaSeat (save $50)
Already decent value for the money, we scored the AndaSeat Jungle a 70 in our testing. It's not that it's a terrible chair, just a little off when it comes to the footrest and finish, otherwise its a great chair for the money. Nice and wide, too.
View Deal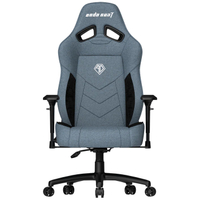 AndaSeat T-Compact Premium | Neck pillow | Lumbar support | $399.99 $199.99 at AndaSeat (save $200 with code: 200OFF)
With a gorgeous light blue colourway, you have to admit this is a great looking chair. It's smaller than some, with a max height of 5ft 9in, and while it doesn't come with a footrest, you still get a great deal with 4D armrests, and a 160° recline. Nowhere on the web does it mention this seat being uncomfortable, either—always a plus.
View Deal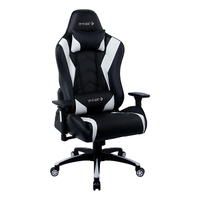 Staples Emerge Vartan Gaming Chair | Neck pillow | Lumbar pillow | $329.99 $139.99 at Staples ($190)
This is a big ol' saving on the list price for a chair that has an impressive 275lb capacity. You're getting a bonded leather back and seat for your money, with height-adjustable armrests and a lumbar cushion too.
View Deal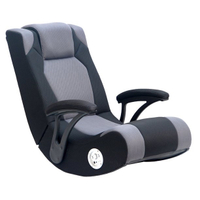 X Rocker Pro 200 Gaming Chair Rocker | 2.1 speakers | Faux Leather| $109 $79 at Walmart (save $30)
Got a kid? This videogame rocker is perfect for some floor gaming action. It also has integrated speakers for an immersive gaming/music experience via a 3.5mm input. Unusually for a rocker it also has armrests
View Deal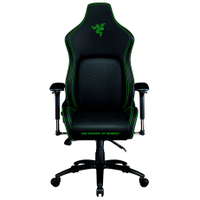 Razer Iskur X | 299 lbs max | 4D armrests | $399.99 $299.99 at Best Buy (save $100)
Razer knows what it's doing when it comes to good quality peripherals, and its chairs are no different. With a loud green trim and subtle snakeskin design, the Iskur is a distinctive gaming chair, from a trusted brand.
Should I buy a cheap gaming chair?
If you're after the racing aesthetic, then a cheap gaming chair will deliver that, but it's what's underneath that faux leather exterior that counts. Going too cheap will mean you get a frame that can't stand the active exertions of a heated gaming session or a seat with padding that either offers no support or melts away within months.
Alternatively, if you're not desperate for the streamer look, you can find decent office chairs, with far more ergonomic designs, for less than the sticker price of a serious bucket seat. This, of course, if you don't mind going for something less flashy.
Good furniture is expensive but should last you a few years, so consider it an investment.