Battlefield 2042 has been on the up-and-up the past few weeks. Last month, classes made their long-awaited return, cosmically balancing what has become the most-yelled-about Battlefield in the history of the series. More recently, Season 4 added a new map, four guns, a new light tank, and a recon specialist with powerful jamming tech. If you ask me, there's a growing list of reasons to give Battlefield 2042 another shot.
Now, add to that list the fact that Battlefield 2042 is free-to-play on Steam from March 13-16. The free period coincides with the final days of a massive sale for the game, a whopping 70% discount at $17.99.
Three days is a weirdly short free period for Steam (the time-honored custom is to open your doors to guests for the whole week), but it is more than enough time to know if this is gonna be your thing. I had fun with 2042 at launch, but bugs and performance issues led me to putting it down for over a year. I picked it back up last week and now have sunk at least a dozen new hours in since then. It runs a lot better for me now, which goes a long way, but I'm loving the four maps added since launch, the reworks for old maps that were too big or empty, and trying out all the post-launch specialists.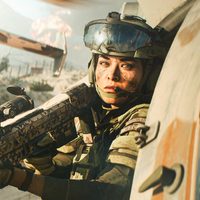 Battlefield 2042 | Standard Edition| Steam | $59.99 $17.99 (70% off)
Coinciding with this sale, DICE is opening the doors of Battlefield 2042 for all from March 13-16.
That new class system is a big deal, too. Restricting gadget access to specific roles means squads once again have to work in tandem to get things done—engineers can no longer SOFLAM helicopters with one hand and bazooka them with the other, lone wolf assaults can't indefinitely heal themselves with medical crates, and recons are now your best bet for spotting enemy players.
It's still far from a perfect game. It still takes too many clicks to arrange your attachments for quick swapping, spawns can be wonky, helicopters can feel overly oppressive—stuff that's slightly annoying but would probably bother me more if it were a more serious shooter.
While DICE has spent much of the last year and change making 2042 more like the older games, it's still definitely it's own thing. If you're a Battlefield purist, you probably still won't like 2042's emphasis on specialists: those are still intact, with bespoke personal gadgets and passive perks. It's now a slurry of new and old ideas in one live-service-shaped scramble. All the more reason to check in on Battlefield 2042 yourself while it's free.