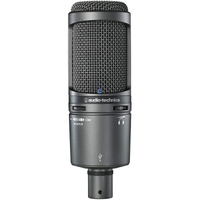 Audio-Technica AT2020USB+ |Cardioid | $68 $57 at Amazon (save $11)
The Audio-Technica AT2020USB+ is hands-down one of the best microphones under $100. It's built to last, sounds incredible, and, most importantly, is easy to use. It won't let you down as long as you can put up with a wonky tripod stand.
If you're looking for a new microphone that sounds great and doesn't cost an arm and a leg, Amazon has a great deal on the Audio-Technica AT2020USB+ microphone for only $57. This is the lowest price this microphone has ever been, after a massive price drop from $120 to just $68 in March.
The AT2020USB+ is Audio-Technica's entry-level unit in its line of AT2020 USB microphones, which impressed me when I reviewed it last month. Aside from being easy to use, its crisp audio quality is a step ahead of many other sub-$100 microphones. It's no wonder the AT2020USB+ sits as the best cheap microphone for gaming and streaming
$68 was already a fantastic price for this plug-and-play microphone that doesn't need any software installation, so $57 is an especially impressive deal. One thing I really like about it are the extra features you won't find on many microphones in this price range, like a built-in headphone jack, volume control, and mix control.
What it doesn't have, which isn't surprising, is a mute button. That sounds silly, but many microphone makers often cut features to keep the price without affecting the recording quality. As much as I love the Razer Seiren Mini, Audio-Technica's mic gives you more versatility and looks less like a toy.
One thing to mention is that the build quality is top-notch, and it comes with a nice little travel pouch. It has a durable metal casing, so you can stuff it in a bag without worrying about it getting scratched or crushed.
My biggest problem with the AT2020USB+ was that it comes with a flimsy tripod that only sometimes sits comfortably on your desk. One option would be to order a decent boom arm that attaches to your desk so you don't have to worry about incidental bumps knocking down your microphone during a live stream.
It also would be good to get yourself a cheap pop filter since it had some noticeable plosives in my time with it, especially if you're to speak very closely to the microphone. And for some reason, this thing still uses a legacy USB Type-A connection which isn't as common these days as USB Type-C—it still gets the job done, though.