Update: Having reached out to Zahid Khawaja, he gave a demonstration of ChatGPT Pro in action. He says, "I obviously subscribed as soon as I saw the button, because I was waiting for it for a while … later I found out they got rid of the options. It's not even there anymore. So I guess whoever managed to subscribe within that one or two hour window, they just have access to it right now."
Khawaja showed me the interface that clearly notes his account type as a Pro user, and explains "if it's available for your account, you should just see it right there on the bottom left, it'll have an upgrade button or something like that."
---
It looks like we could soon be getting a paid version of ChatGPT that, according to apparent early adopters, is hella speedier than the original AI text generation platform.
Coming in at $42 per month, the subscription service users are reporting seems to offer speedier responses, "priority access" to as-yet unconfirmed new features, and more reliable access (via The Verge).
Considering how hard it's been to access the text generation platform recently—in part down to the sheer number of businesses adopting it as a mini AI assistant to speed up workflows—a ChatGPT Pro version seemed like the logical next step for a platform in such high demand. And it's undoubtedly the interest from businesses you can thank for the ridiculous monthly price.
Twitter user Zahid Khawaja, who appears to have gained ChatGPT Pro early access, has been posting proof since "A lot of users were asking me for proof, so I decided to make a video."
Here's how ChatGPT Pro works! A lot of users were asking me for proof, so I decided to make a video. pic.twitter.com/QYNn3pRnxIJanuary 21, 2023
See more
Of course, this could be an AI-generated fake of an AI text generator, generating AI videos about AI text generation content… Who's to say?
OpenAI did note a little while back that "this is an early experimental program that is subject to change, and we are not making paid pro access generally available at this time." So whether it will all go ahead is pretty up in the air.
While we're unsure whether it'll all take off, one thing's for sure: the business-minded and the depraved alike will certainly pay up whatever the price. We can only hope that, after Microsoft's multibillion dollar investment in the OpenAI platform, a $42 a month price tag will see "mentally scarred" Kenyan workers better compensated for the absolute unadulterated horrors they're exposed to on a daily basis from moderating it.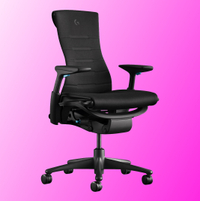 Best chair for gaming: the top gaming chairs around
Best gaming desk: the ultimate PC podiums
Best PC controller: sit back, relax, and get your game on