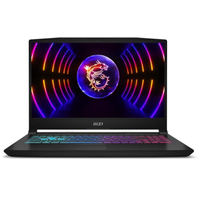 MSI Katana 15 | 15-inch | RTX 4060 | Intel Core i5 12450H | 16GB DDR5 | 1TB SSD | $1,199 $1,029 at Newegg (save $170)
This is the RTX 4060 laptop to buy right now. For a little over $1,000, you can score a brand new RTX 4060 in a laptop that's not massively underpowered in some other way. Usually we'd see manufacturers skimp on the SSD or RAM to get the cost down to this level, but here you're looking at a healthy 16GB of DDR5 and a 1TB NVMe drive. Lovely.
Holy portable chips, an RTX 4060-powered gaming laptop for less than the price we'd have expected to pay for an RTX 3060 gaming laptop of the last GPU generation just a few short months back. And with more storage than we've seen in other cheap RTX 4060 notebooks recently. Right now, the MSI Katana 15 is just $1,029 at Newegg, which is a saving of $170 down from its original $1,199 price tag.
Not long ago you'd have found yourself paying the same price for a similarly specced gaming laptop with just 8GB of RAM and a measly 512GB of storage. Instead, this Katana's rocking fully 16GB of DDR5-4000 memory and a capacious 1TB NVMe drive. What that tells me is that we can finally really start to recommend cheap 40-series gaming laptops with no qualms, as we move away from this strange intermission between the 30-series and 40-series portable GPUs.
Aside from the RAM and storage upgrades, you're looking at a 1080p IPS screen running at 144Hz; a bar that the RTX 4060 will have no trouble hitting. You might even consider doubling up with one of the best gaming monitors around, if one 15.6-inch screen isn't going to be enough for your gaming shenanigans.
Most importantly though, the RTX 4060 in its mobile form really benches. Hard. And paired with a 12th Gen Intel CPU, you'll have no trouble with using it as a workstation either. It may not be a current generation processor, but the Core i5 12450H will still perform admirably today with eight performance cores and a total of 12 Alder Lake threads for the ol' number crunching.